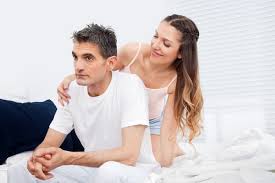 A Special hypnosis therapy has been developed to Cure Impotence and is available for immediate download.
Impotence, often referred to as Erectile dysfunction (ED), is  the inability to develop or maintain an erection of the penis during sexual activity.   An erection is normally achieved as a result of sexual arousal, when signals are transmitted from the brain to nerves in the penis. Sometimes there are organic causes for impotence, such as cardiovascular disease and diabetes, neurological problems , hormonal insufficiencies (hypogonadism) and drug side effects.
Psychological impotence is where erection or penetration fails due to thoughts or feelings (psychological reasons) rather than a physical condition. Psychological impotence can often be helped with the proper use of hypnosis.  Erectile dysfunction or impotence can have severe psychological consequences as it can be linked to relationship difficulties and the masculine self-image. If not addressed as early as possible, severe and irreversible psychological damage can occur.
A special hypnosis session has been created in conjunction with psychologists to cure impotence. After using the hypnosis session dramatic results have been achieved as normal control of the penis during an erection is restored. This leads to more satisfying relationships and pleasurable sexual experiences.
Read More details on Hypnosis for Impotence
Hypnosis for other Sexual Problems